November 28, 2020
Wheelchairs Customized for Kids in the Developing World
According to the World Health Organization, around 1% of the world population is in need of a wheelchair. That's a staggering 65 million people worldwide.
Wheelchairs are not one size fits all.
When someone is in need of a wheelchair on a temporary basis - a woman going into labor, someone with a broken bone, or recovering from an injury - a simple hospital chair is provided. These chairs are meant to be pushed by another individual, not the patient, and are simply meant to move the patient from point A to point B when they have trouble getting there on their own. These hospital style wheelchairs are also typically made for the developed-world market, making them high in cost as well as limited in functionality. Such chairs are unable to fit the needs of individuals with long term needs who live in developing countries.
In some cases, these new or used chairs may be donated. However, supply chain problems such as long production times, transit and clearance delays, or an influx of just one type of product inhibit access to the appropriate wheelchair needed by each specific patient. In many cases, there is a mismatch between the products available at local wheelchair provision centers and the needs of users. Lack of access to appropriate products results in wasted resources, missed opportunities for life-changing interventions, secondary injury, or even death.
A properly fitting wheelchair helps a person live with minimal pain and discomfort typically caused by ill-fitted chairs, breathe and eat easier, and interact more with their environment. It can also reduce deformities and muscular rigidity, and safeguard against skin breakdown caused by prolonged pressure or friction. Small pressure sores can develop into life threatening infections and are the number one reason for death among wheelchair users.
We provide high-quality, World Health Organization certified, appropriately fitted wheelchairs for our CoolKids - individually selected for the child's needs and the environment in which they live.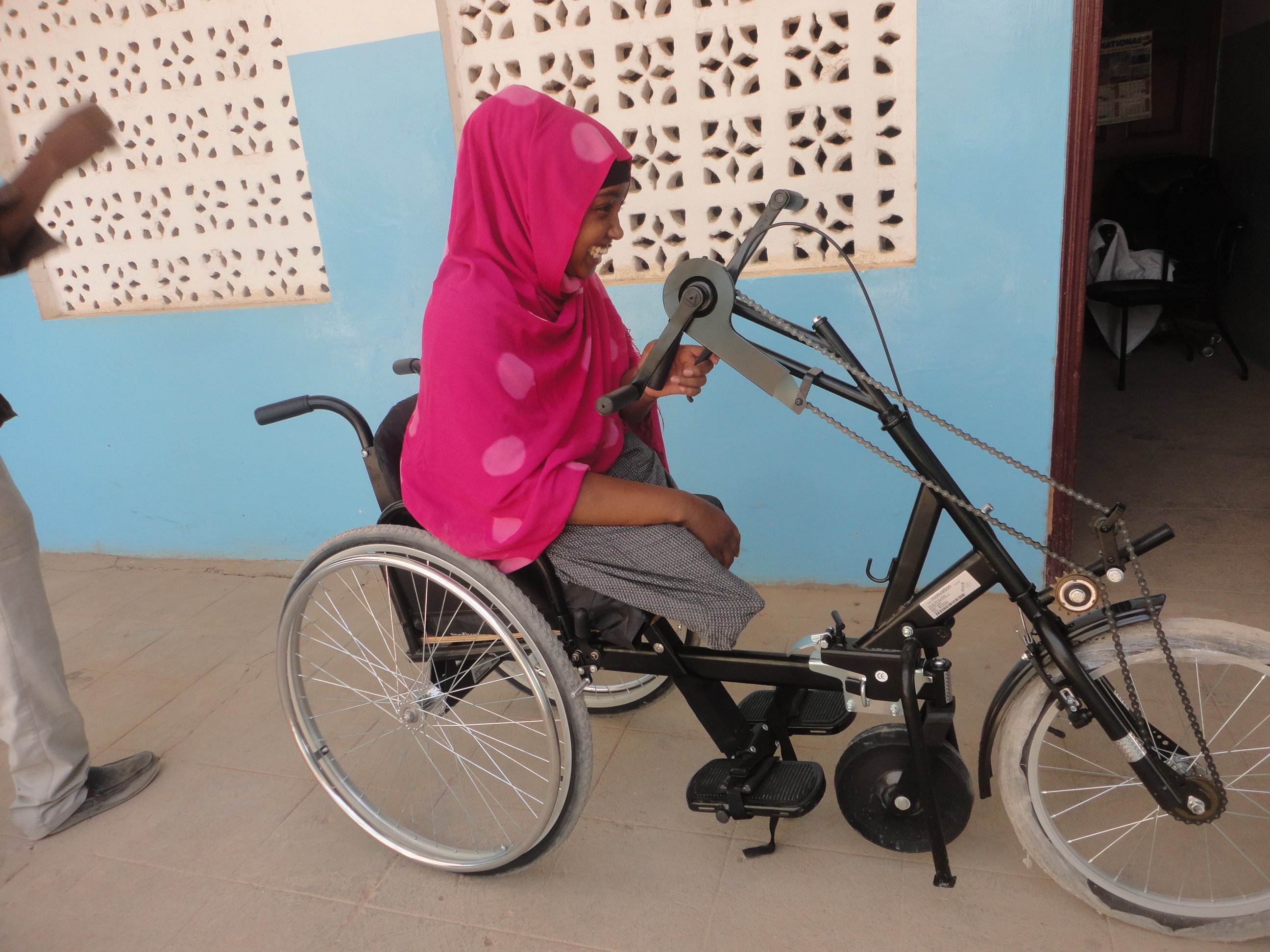 Coolkid Asha received a rough terrain wheelchair with clip-on tricycle from our program with Disability Action Network in Somaliland. This wheelchair is the most suited for the sandy grounds where Asha lives.
Every wheelchair and accessory provided will have easily replaceable parts, are adjustable to meet a wide variety of sizes and needs, and are built to endure unpaved roads, humid temperatures, and inaccessible spaces. Moreover, all wheelchairs provided meet ISO 7176 standards and are manufactured in factories with ISO 9000 quality systems.
For our CoolKids who spend a minimum of 10-12 hours per day in their chair, an appropriately fitting wheelchair is essential to avoiding secondary health complications, not to mention increased quality of life.
For an average cost of $500 you can provide a CoolKid with a wheelchair and change their life forever.