February 15, 2022
Get to Know: Hannah Schumacher, Marketing & Communications Manager
Last year we launched a new blog series: Get to Know. We want you to get to know the people and passion behind ALTSO's efforts. Next up, Hannah Schumacher — the team's Marketing and Communications Manager.
What drew you to ALTSO?
Throughout my life I've tried to do something where I could make a difference in the lives of others. When I applied for my first role at ALTSO, I didn't know the company I was applying to work at - I found the job posting on Craigslist with the title 'Administrative Assistant for International Children's Healthcare Charity.' I had recently graduated college with a degree in biology, and was deciding between a career in nursing, public health, research, or the nonprofit sector (I was very undecided), so I ignored the mystique and applied anyway. Once I received an interview request, and with it the name of the elusive nonprofit, I quickly fell in love with ALTSO's mission. I felt strongly about what they were doing, why they were doing, and also equally important, how they were doing it (ALTSO believes in sustainability - working with local manufacturers and partnering with established orthopedic programs on the ground).
What about ALTSO has kept you for five (!) years?
In two words - the people and the impact. We often refer to our volunteers and advocates as part of the 'ALTSO Fam' - and that is not a hyperbole. Over the last five years I've met dozens of people in New York, Chicago, and London who dedicate their time, energy, and expertise, outside of their normal day jobs, to help us make a greater difference. I've been fortunate to grow with the company over the last five years, wearing a lot of hats and learning a lot of skills I never thought I'd need or have. It's a rare opportunity to find a job where you enjoy what you do, who you do it with, and who you do it for.
L-R: Gaby, Beth Ann, AJ, and Hannah
How do you see/feel the impact you have on ALTSO's CoolKids who are on the other side of the world?
Part of my job as Marketing & Communications Manager is reading through & assembling the stories of our CoolKids that our programs and my colleague (Director of Programs, AJ Warco) have collected. When you parse through the photos, videos, and narratives of children who couldn't get to school, because they could not physically walk or roll there, or who were reliant on their parents, grandparents, or siblings, to physically carry them, but who are now independent, confident, and hopeful for the future - it's impossible not to see the impact that we all have on these children's lives. My hope is that when our supporters read these stories on our blog, The Community, follow along on our social media, or watch one of the videos of our CoolKids, they too see and feel the impact that they have - because there would be no impact to share without them.
Where do you see ALTSO in 5-10 years? What do you envision for the organization?
Because of the tremendous support ALTSO has received over the past few years we are growing and I see us continuing in that trajectory. Thanks to other organizations, such as the Paralympics' WeThe15, discussions around equality, inclusivity, and accessibility in education, everyday life, and the workforce, are finally being brought to the table. The team is looking to expand our reach to other geographic areas where the need is the greatest. In 5-10 years time, when you ask someone on the street 'What's the best charity for children with disabilities in the developing world?' we hope they'll say ALTSO.
How can people support ALTSO?
Follow us on social media (We're on Facebook, Instagram, LinkedIn, and Twitter) and like and share our content.

Tell one friend about ALTSO and the difference mobility makes.

Sign up for the CoolKids Club. A monthly donation of $5 ($60 a year) keeps one child moving a year with the free mobility care they need to improve their self-esteem, maintain self-sufficiency, and access education.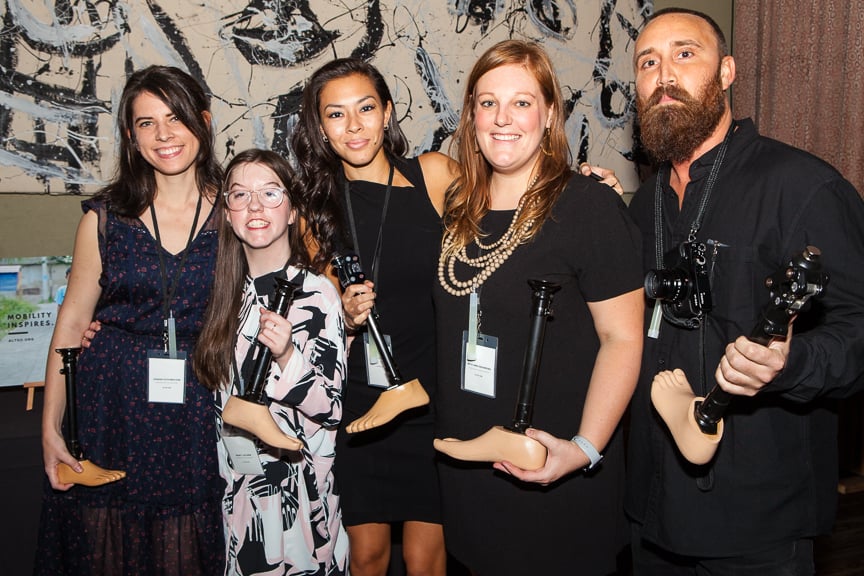 L-R: Hannah, Mary, Gaby, Beth Ann, and A.J.
Thanks you Hannah for giving us a glimpse into your experience. You can learn more about Hannah and the rest of the ALTSO team here.