March 5, 2021
Get to Know: A.J. Warco, Director of Programs
The NextGen Club is launching a new blog series: Get to Know. We want you to get to know the people and passion behind ALTSO's efforts. First up, A.J. Warco — the team's Director of Programs.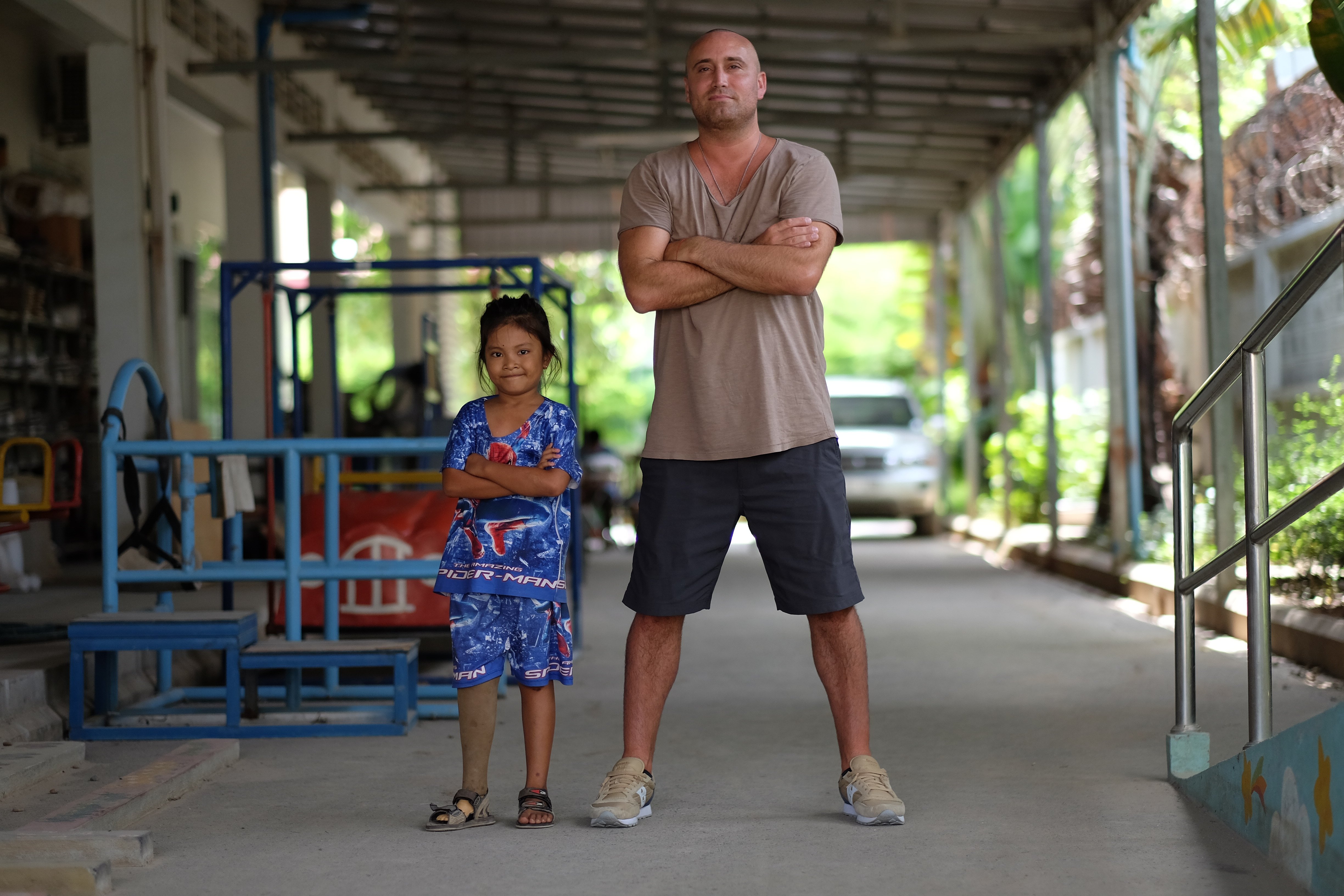 A.J. with CoolKid Sreyly during a site-visit to our program with Exceed in Cambodia, in 2019.
What drew you to ALTSO?
In 2003, a near-fatal car accident left me immobilized in a hospital bed for nearly four months. I was lucky to be alive and not paralyzed from the neck down. I fractured four lumbar and two cervical vertebrae. I needed to learn how to walk again. I completed physiotherapy and occupational therapy daily. I was totally reliant on others to help with tasks like using the toilet, bathing, getting out of bed, etc.
This experience provided me with an entirely new perspective, specifically about how life is so fragile and is a gift each day. It gave me a profound appreciation for my mobility and a heart full of compassion for persons with disabilities. A few years later, when the time was right (I like to think) is when I found out about ALTSO and decided to pursue an internship.
What's your favorite memory with one of the CoolKids?
This is tough to answer but I would have to say that my favorite memory with ALTSO's CoolKids would generally be the times that I've had the opportunity to meet a CoolKid when they are young, continue to visit them and their family on an annual basis, and be blessed to see them when they graduate from high school, university, and our program at the age of 21. It has always made me feel a part of the family. These experiences have brought an incredible amount of joy to my life and has made me really appreciate the journey and the blood, sweat, and tears that often come with this type of work.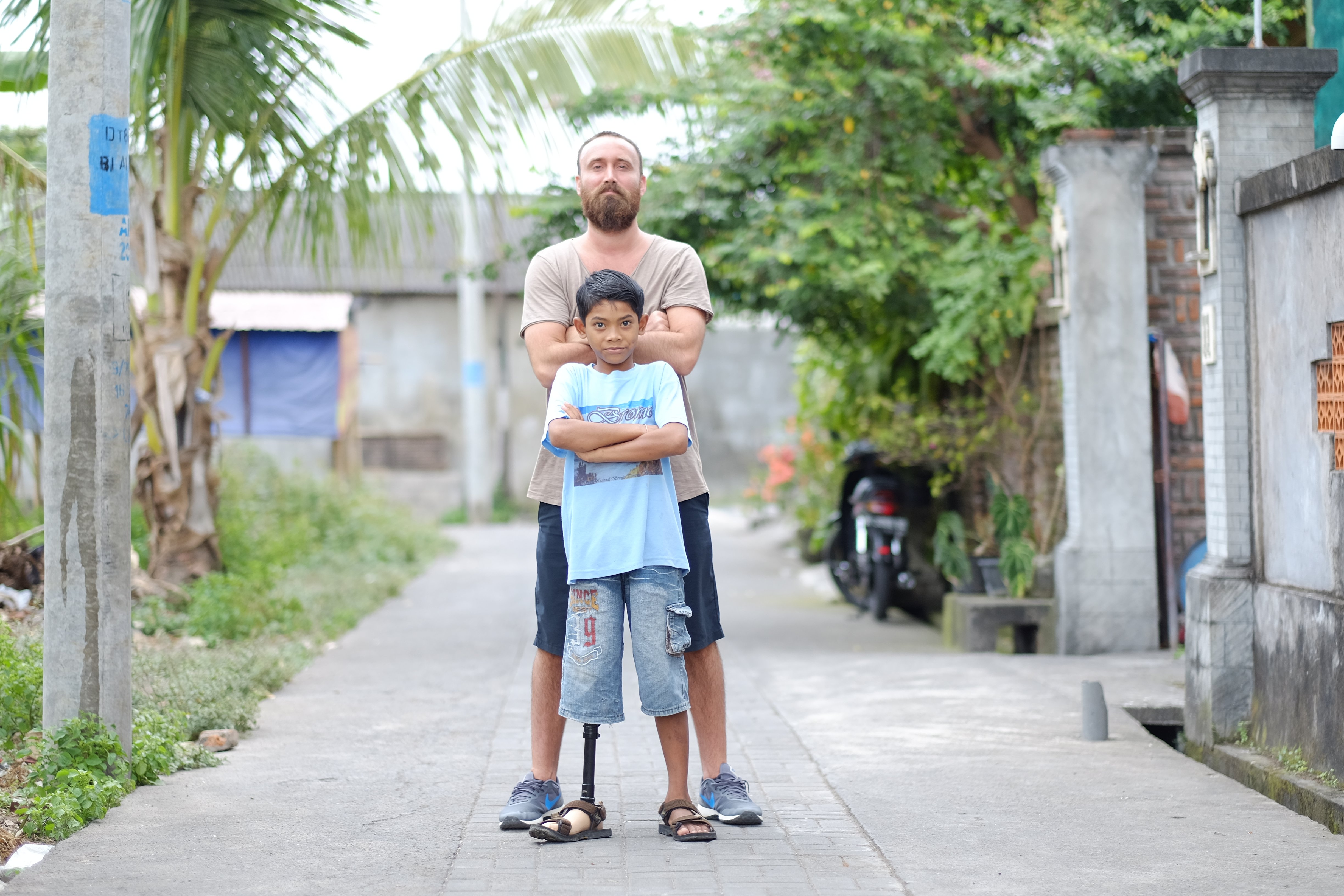 A.J. with CoolKid Dwi during a site-visit to our program with Puspadi Bali in Indonesia, in 2017.
What's the toughest part of your job?
The toughest part of my job would have to be time. What I mean by that is the pace of the non-profit/charity world. When compared to commercial for-profits, our world — specifically the development of products and programs, and overall impact moves at a much slower pace. This is mainly due to budgets and priorities, i.e., funding and the supply/demand of global needs. Needless to say this can be very frustrating.
Tell us something we don't know about ALTSO's care?
Most people do not know that ALTSO's products are meticulously designed and/or chosen based on quality above all else, customizable for each patient's needs, and are aesthetic appealing — as this has a profound effect on self-esteem and also the acceptance and continued use of a mobility device. We also are striving to expand our product line to provide a wider variety of products for our CoolKids to choose from.
How can ALTSO supporters enact real change?
ALTSO supporters can enact real change by committing to a monthly donation of any amount. This commitment ensures that adequate funding is available on an annual basis so we can continue to provide services to those in need and expand our mission into new geographical areas.
A.J. with CoolKid Bhupendra during a site-visit to our program in India in 2016.
Thanks, A.J. for giving us a glimpse into your story and experience. You can learn more about A.J. and the ALTSO team here.