December 21, 2020
Helping our CoolKids in good times and in bad
Author: Gabriella Mueller-Evrard
With so much outside of our control, one thing has continued to inspire us every day this year: the power we have to impact someone else's life.
It is during times of crisis that the transformative power of community is most greatly felt. This year, because of the generosity of our community of advocates, we were able to uphold our commitment to keep our CoolKids moving despite the many challenges before us. And to ensure that our teams on the ground could continue to operate safely amidst COVID-19, hundreds of supporters stepped up to help us deliver critical personal protective equipment and sanitizing supplies to each of our 11 global programs.
While we have each been impacted by the pandemic, our community remained dedicated to ensuring our most vulnerable CoolKids, like Shivani, would not suffer needlessly. When she was only three years old, Shivani's leg was amputated after suffering a traumatic accident. Her parents, who worked long hours as vegetable street vendors, could not afford the treatment their daughter needed to walk. Through a different local program, Shivani was given a free prosthesis, but it was too heavy for young Shivani to even lift her leg. Community outreach workers in Ahmedabad, India identified Shivani and brought her for treatment to our program clinic, GetBak, where she was fitted with her first free Joshi Modular Prosthetic Limb.
We created our Joshi with CoolKids like Shivani in mind. Made with lightweight but durable materials like steel and aluminum, the Joshi is tough enough to navigate rugged terrains, but light enough for children of all ages to move comfortably. Its modular functionality will allow us to easily adjust her device as she grows, and its sleek design means she will always be proud to wear it.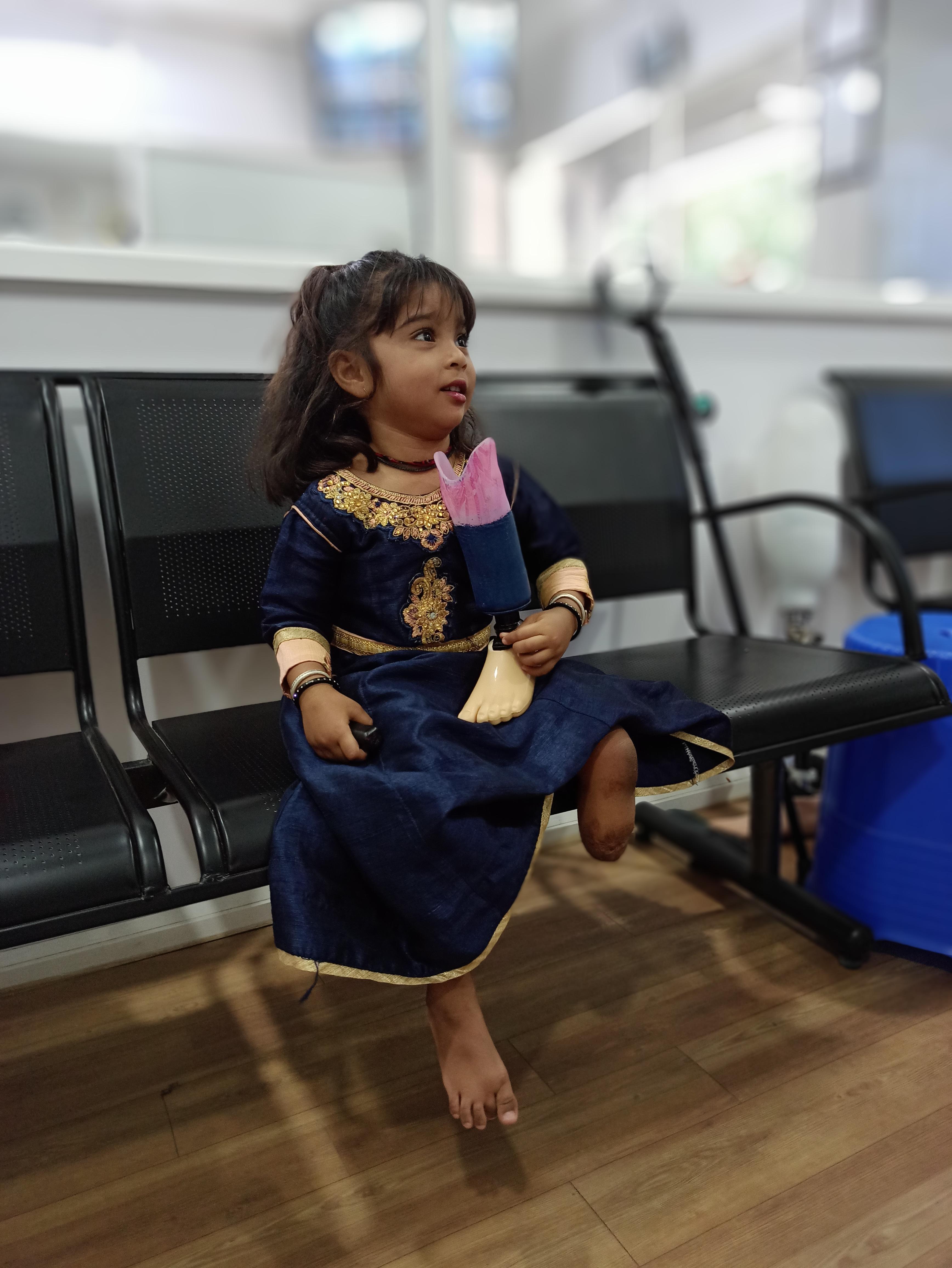 But at only $250 manufacturing cost, and provided to every single CoolKid free of charge, our Joshi provides more than high-quality customization and extraordinary cost-effectiveness. It provides Shivani with the promise that she'll never stop moving, and the self-esteem that comes with being independent. It gives her the ability to walk the 2 miles to and from school, and the opportunities education offers. It ensures she'll have the confidence, and the ability, to form friendships as she grows, and to one day give back to her family and community.
The Joshi also gives Shivani's mom and dad the time they need to work, so they can continue building their family's future. It grants them the peace of mind that their daughter has a chance to break the cycle of poverty she was born into. Through the helplessness so many of us have felt this year, know that your generosity has the power to transform the entire course of a family's life.
Please consider making a tax-deductible donation or joining the CoolKids Club with a monthly commitment of any amount — only $25 a month keeps 6 CoolKids moving throughout the entire year.
Thank you for being an important part of our community, and for empowering our next generation with hope, opportunity, and the tools to live self-sufficiently. No matter what is going on in the world, there is always something we can do to make it brighter.
Wishing you continued health and joy during the holiday season.
Read our 2020 End of Year Report to see the impact you have.