December 9, 2020
Wheelchairs. One Size Does not Fit All.
WHO Certified Wheelchairs
We provide high-quality, World Health Organization (WHO) certified, appropriately fitted wheelchairs for our CoolKids - individually selected for the child's needs and the environment in which they live - because we know that the details matter.
We work with our programs to pre-order wheelchairs with CLASP that are the best fit for our CoolKids. An appropriately fitted wheelchair prevents secondary health complications and supports the upper body when required.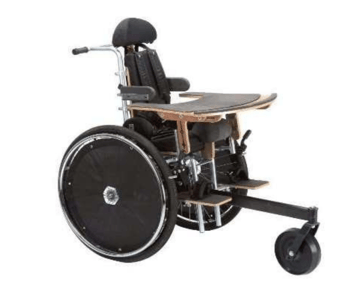 Providing Appropriately Fitted Wheelchairs to Children in Nepal
Five year old Deepa lives in a very remote region of Nepal. Born with a congenital limb disability, Deepa has never been able to walk independently.
Deepa's parents, eager for their child to receive an education, carried her everyday to and from school. Unfortunately, as Deepa grew and as her parents aged, this became an increasing physical burden.
Luckily, this year Deepa and her family visited our program with Hope Disability Centre in Gulmi, Nepal where Deepa received her first appropriately fitted wheelchair. Deepa was provided with a Motivation Moti-Go postural support wheelchair that would easily maneuver over the muddy terrain between her house and her school. The Moti-Go is intended for children who require postural support to sit up straight, for good postural health and improved physiological function.
Deepa's parents are thrilled that there will be no obstacle between Deepa and her continued education. Thanks to the details, that's Growing Up ALTSO.